I don't like to be pigeon-holed as a painter. Using watercolour, gouache or acrylics I paint portraits, landscapes (rural and urban), wild-life and still life and everything in between. The best compliment I get is when people who are familiar with my work say they don't know what to expect next.
Sometimes I try to capture a small, intimate part of a subject believing that such detail can often convey more of its unique character. Occasionally these paintings will have an almost abstract quality. I also like my pictures to tell stories so that people who buy them will be encouraged to look into them rather than just at them.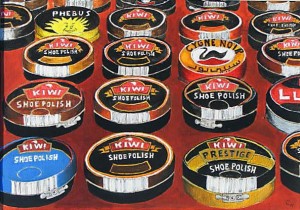 In 2008 one of my paintings was short-listed in a national competition. From nearly 2,000 entries the work of 90 finalists was hung at the Bankside Gallery (next to Tate Modern). My entry – a picture of tins of shoes polish (left) – was bought by a gallery in Milan. 
I was a finalist for a second time in 2010 with a painting of mule blankets and saddles and again in 2011 when my picture of the interior of a house in Tibet was exhibited at the Birmingham Royal Society of Arts gallery.
I have always loved art but only started painting seriously as I approached retirement after a career in national newspaper journalism. I received an Open College of the Arts Award in 2003.

My work has been shown in galleries in Cumbria where I lived and painted for a number of years before returning to Somerset in 2015, as well as in Greenwich and elsewhere in London. It has been the subject of a number of local newspaper articles as well as radio interviews.
As well as original paintings and commissioned portraits I also produce photographic prints of my work. If you would like to commission a painting or buy any of the pictures or prints shown here please get in touch using the details on the contact page.

Original paintings are individually priced (prices on application), 10in x 8in mounted prints are £30 each – p&p £2 – and commissioned works, portraits etc, at a price to be negotiated. Or hopefully you will just enjoy looking at the work displayed. I would also value your comments and opinions.
My own favourite artists include Americans Edward Hopper ("Nighthawks"), the social realist "Ashcan School", particularly George Bellows, Andrew Wyeth, a very much under-rated, at least in Europe, painter and Norman Rockwell who was far more than just an illustrator for the "Saturday Evening Post and whose work contains a wealth of social commentary. My Favourite British painter is Lucian Freud.